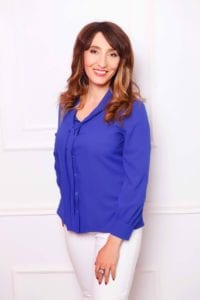 We moved to Kiev in 2014 because of the military activities in Lugansk (East of Ukraine). In Kiev our family didn't have a place to live, no job, nothing.
In 2013 I heard for the first time about the Diamond Cutter system.
Since then I have been practicing and we have unbelievable results.
1. Using the 4 steps we bought an apartment in Kiev within one year.
I worked with two karmic partners – my colleagues in Kiev. Both ladies were pregnant and wanted to buy apartments. With extraordinary effort I was helping them once a week and finally they got their apartments. Also my husband and myself several times borrowed money to our friends to buy apartments. In addition I was giving free coaching sessions to another colleague of mine who wanted to buy an apartment.
2. The turnover of our company multiplied by 5 (!) after we visited the DCI events by Geshe Michael Roach in 2016.
I had three karmic partners. Their goal was to increase their business and to come out to a new level. We met once a week during 8 months till they got their first results and now we meet them once or twice a month.
3. We created the largest educational company in the Ukraine. Right now we have customers from 22 different countries.
In addition to the above-mentioned work with karmic partners I focused to support and connect people from different countries. As a result we started to get invitations from different countries for our trainings.